Whether it's been leadership or employee-wide training in Emotional Empowerment, 98% of individuals agree they:

Gained skills to overcome negative emotional experiences

Feel more empowered to address anxiety, anger, guilt,
frustration and disappointment

Know how to build stronger emotional resilience
What leaders are saying about working with the International Institute for Emotional Empowerment  
The Emotional Empowerment course, which was delivered by Michelle Bersell for a Kohl's director level executive leadership course, was incredibly well received. The leaders were better able to understand the emotional energy they often have to deal with such as anxiety, guilt, frustration and disappointment. As well, they learned to identify triggers to more quickly drive positive behaviors and reinforce positive actions. This course enhanced self-awareness and also provided tools to support individual and team member mental health needs. The course was particularly relevant given the turbulent 18 months that all business leaders have had to deal with during this extended COVID environment.
Marc Chini, Chief People Officer of Kohl's
When you get numerous unsolicited emails thanking you and telling you a training has changed their lives, you know that you have brought the right training to meet the needs of your workforce. That has been our experience in working with The International Institute for Emotional Empowerment. In these times you need to focus on the mental health of your workforce so they can come to work as their whole selves. If your goal is to take care of your people's emotional well-being and mental health, look no further. The insight provided is unique, insightful, and spot-on to address the psychological needs of today's employee.
Shanan Lazorchak, Human Resources Business Partner at Acelero Learning
Our emotional empowerment training with Michelle was wonderful. She was great to work with and took time to adapt the session to include our corporate strategy and address the specific needs of our employees. The session provided our employees with the tools to best address challenging emotions like disappointment, anger and anxiety, especially in the wake of the pandemic. The Zoom session was interactive and engaging and we received great feedback from participants that they felt supported during these challenging times.We would recommend Michelle's training to any corporation looking for ways to support their employees' mental health.
Ingrid Cordelino, Senior Technologist & Leader of WIN (Women of Ingredion Network) at Ingredion Inc.
Ready to Get Started? 
Connect with one of our team members to learn how Emotional Empowerment can help meet your organization's goals.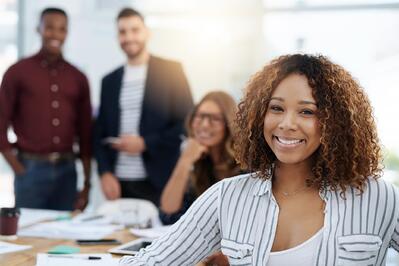 Training that Turns Negative Feelings into Your Greatest Allies
(Because check-the-box wellness programs no longer suffice!)
Programs and Online Training:
Deliver fresh and unique insight into how to address and resolve the most problematic feelings individuals are experiencing on a daily basis. Provide customizable live workshop trainings to specific leader groups or throughout the entirety of your organization in order to provide instant feedback and support. Develop greater emotional resilience skills through on-demand training that is available 24/7 to guide individuals through their most challenging negative emotional experiences.
Individual & Group Coaching: 
The psychological burden of leaders and managers is high. Coaching that offers leaders how to process, rather than manage, their emotions is vital to lessening the internal load they are carrying and bringing forth their best leadership abilities. Providing indispensable members of your organization the opportunity to develop their emotional empowerment skills will support these individuals to flourish in their roles, avoid burnout, and lead others through change while maintaining their own well-being.
Certification:
Train a select group of individuals within your organization to model, lead, and teach an empowered emotional approach to negative emotions within the organization. Having key individuals who can address emotional challenges head-on with competency and compassion is a vital resource within today's organizations. Increase the impact Emotional Empowerment has throughout your organization's culture through science-based tools and practical skill-building that were designed to build resilience from the inside-out.
Resources and Tools: 
Each training, whether live or on-demand, comes with its own set of resources that support individuals to reinforce new patterns to develop a healthier relationship with their emotions. The tools provided help individuals recognize when they are on or off track to greater emotional resilience, as well as take them deeper into understanding of their patterns so they feel empowered to create lasting changes.
Be someone's hero….What participants are saying:  
"I want to personally thank you, I have been going through a major life changing event in my life, and flipping the script makes me feel a sense of relief. I have gone to therapy for the last 6 months and haven't felt the sense of empowerment and sense of calmness and relief that you have given me! You are amazing and so insightful! This is the best training we have had so far!"
"I struggle with anxiety and depression and I learned a lot of strategies to cope. I appreciated the Big 5 and took a ton of notes that resonated with me. I think this will be beneficial in our program as more groups go through this training."
"This training changed my outlook on life."
"This training was…insightful!!! Informative!!! Much needed!!! and life changing for me because I now I need to love myself and take care of myself and others. I now understand I cannot control everything and instead on giving that the power to control me, I will focus on what I can do and not to set myself up for failure. I cannot change the past just the now."
The Gap that Emotional Empowerment Fills: 
Despite the unprecedented levels of mental and emotional health challenges people are facing, they lack practical understanding of why they are experiencing negative feelings and what they can do to feel better. Emotional Empowerment provides science-based tools to guide individuals to recognize what is causing them to feel emotions such as anxiety, sadness, anger, frustration and guilt, while providing guidelines to behaviors to help diminish negative feelings.
Emotional Empowerment is NOT the same as Emotional Intelligence:
Emotional Empowerment teaches you how to understand and dissolve your emotional triggers, which results in less negative feelings to manage, as well as stronger emotional resilience.
The Business Case for Addressing Emotions:
96%
Of Employees believe their well-being is an organization's responsibility
(Deloitte)
$1 Trillion
Per year is the loss in productivity due to depression & anxiety
(World Health Organization)
550 Million
Workdays are lost due to stress on the job
(The American Institute of Stress)
Connect with one of our team members to learn how Emotional Empowerment can help meet your organization's goals.
Stay up-to-date with the latest articles by
signing up for our monthly newsletter.